If you would prefer not to hear about new issues of The Way, or if you are receiving more than one copy of our message, please click here
To order this new issue of The Way only, please click HERE.
Please click here to subscribe to The Way.

Dining with Saint Ignatius of Loyola: Rules for Regulating One's Eating
The book of the Spiritual Exercises includes a great variety of techniques and methods to help someone who is intent on drawing closer to God. As well as prayer forms, Ignatius includes more practical guidelines for daily living. Here Philip Shano looks at the contemporary relevance of one set of these, the 'Rules for Regulating One's Eating'.
Download this article in PDF format by clicking here
'On You I Muse through the Night': The 'Midnight Meditation' in the Spiritual Exercise
Anyone making the full Spiritual Exercises in their enclosed, month-long form may well be recommended to pray repeatedly in the middle of the night. Is this suggestion any more than a remnant of the late medieval piety with which Ignatius grew up? Paul Nicholson argues that, on the contrary, current science offers pointers to the benefits of such a practice.
El Gran Capitán: An Influence on Ignatius and the Spiritual Exercises?
It is widely recognised that, in composing the Spiritual Exercises, Ignatius drew on his own experience of prayer, but also of his life before his conversion. Tom Shufflebotham draws our attention to one possible significant influence, the 'Gran Capitán' Gonzalo Fernández de Córdoba, commander-in-chief of the armies of King Ferdinand and Queen Isabella around the time of Ignatius' birth.
Ignatian Mysticism and Contemporary Culture
If at one time Ignatius was viewed as the quintessential 'soldier-saint', he is currently more likely to be seen as one standing in the mystical tradition. Brian O'Leary recognises that this is in part due to an appreciation of certain 'peak experiences' he is known to have enjoyed in his prayer. But there is, he suggests, an 'everyday mysticism' discernible in the Ignatian story that is just as relevant for those who adopt his spirituality today.
Reclaiming the Particular Examen
Ignatius offers two forms of 'examen' near the beginning of the Exercises. The more general one invites retreatants to recognise more fully the presence of God in their daily lives. The other focuses on particular patterns of behaviour in order to modify them. Mark Argent here presents this 'particular examen' in the light of modern psychology.
Theological Implications of the Ignatian 'Contemplation to Attain Love' as an Experience of Pentecost
The Spiritual Exercises end with the 'Contemplation to Attain Love'. Joseph Bracken believes that this prayer has the capacity to evoke in a retreatant an experience similar to that enjoyed by the first disciples on the day of Pentecost. Both experiences point to future mission, and offer the grace needed to carry this out.
Third Things First: Preaching and Ignatian Contemplation
Starting from the premise that today, in many parts of the Church, 'explanation of the gospel has overshadowed experience of the gospel', Geoff New finds in the Exercises a remedy for this situation. There is, he argues, no better way to 'nurture and form a biblical and Christ-centred imagination', and in this article he gives us a practical example.
Ignatian Indifference and Today's Spirituality
The word 'indifference' can suggest either a cold, uncaring attitude towards a person, situation or question or the, perhaps hard-won, ability to stand back from our own immediate concerns in order to see with greater clarity. It is the latter that much of the Spiritual Exercises aims at attaining, but how is this standpoint to be best understood and appreciated? Robert Doud offers some answers here.
To order this new issue of The Way, please click HERE.


How can we integrate a reasonable, modern world-view with the richness of transcendent faith? This question has challenged religious believers in every generation. In The Resurrection of the Word John Moffatt SJ sets out to give twenty-first-century Christians, particularly those in the Roman Catholic tradition, a framework for finding their answer. The book explores issues from the development of doctrine to religion and science, from interpreting the Bible to understanding Christian and non-Christian ethics. It offers a basis for a positive and intelligent relationship between western Christianity and the contemporary world.

Forthcoming October 2013



Price: £15.00





ISBN: 978 0 904717 41 9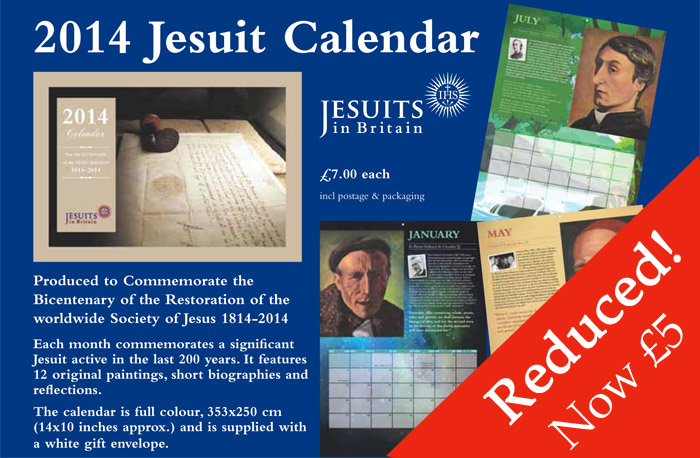 You have received this e-mail because you have been in touch with us in the past. We will be sending out this kind of promotional e-mail at approximately quarterly intervals, but we are anxious not to send information to anyone who does not want to receive it. If you would prefer not to hear about new issues of The Way, or if you are receiving more than one copy of our message, please click here. Note that if you e-mail The Way again, you may need to unsubscribe again—our mailing list is maintained manually!