If you would prefer not to hear about new issues of The Way, or if you are receiving more than one copy of our message, please click here
To order this new issue of The Way only, please click HERE.
Please click here to subscribe to The Way.

Tom Rochford
The recently elected Superior General of the Society of Jesus, Fr Adolfo Nicolás, talks about his life and experiences, and especially about his work in Japan and the Philippines. He reflects on his plans for the future as General.
Download this article in PDF format by clicking here
Hans Gustafson
The English Benedictine Bede Griffiths spent his life in India, and his Christian theology and spirituality were deeply influenced by Indian thought, and in particular by his dialogue with Hinduism. His work retains an enduring spiritual significance for Christians today.
John N. Sheveland
In the West the practice of yoga is sometimes mistakenly treated as no more than a physical discipline, or identified with New Age spirituality. But in fact it has much to offer to Christians and Christian spirituality.
Rudolf Pöhl
Bibliodrama enables people from diverse cultures and backgrounds to explore biblical texts and stories in a powerful and immediate way. A series of programmes and missions across Asia illustrates the value of this approach.
Juan Miguel Marin
The Jesuit missionaries to Peru and their indigenous converts in the sixteenth century espoused a mystical theology which strengthened them in their ministry in a hard and challenging environment, according to the charism of contemplation in action. This article examines the lives of two Peruvian Jesuits and how they lived out this charism.
Antonio Ruiz de Montoya
Ruiz de Montoya, a sixteenth-century Jesuit born in Peru, argues that mystical prayer is not just for the initiated, but for everyone.
Pascale Dalcq
The genocide in Rwanda in 1994 was a source of horror and despair. But even after witnessing such events, hope and life and faith are still possible.
To order this new issue of The Way, please click HERE.



Nicholas King's ground-breaking translation of the New Testament was published to great acclaim in 2004. This first group of Old Testament translations comprises Job, the Psalms, Proverbs, Ecclesiastes, the Song of Songs, the Book of Wisdom and Ecclesiasticus. It will be followed by three more volumes: The Pentateuch, The Historical Books and The Prophets.





Price: £19.99





ISBN: 978 1 84867 069 3
An outstanding feature of Nicholas King's New Testament translation is the explanatory notes and commentary interwoven with the New Testament chapters, exploring the personalities, background, teaching, language, devices, style and syntax of the writers. They help give the reader the feel of the texts, explain trickier passages and highlight themes of special significance. Here the individual Gospels are published separately for ease of use in groups or for personal study.
Price: £4.99
ISBN 978 1 84417 527 7 (Matthew); ISBN 978 1 84417 528 4 (Mark); ISBN 978 1 84417 529 1 (Luke and Acts); ISBN 978 1 84417 530 7 (John)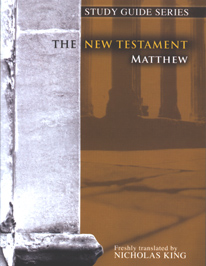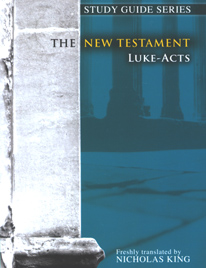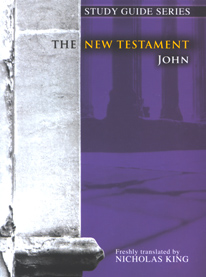 You have received this e-mail because you have been in touch with us in the past. We will be sending out this kind of promotional e-mail at approximately quarterly intervals, but we are anxious not to send information to anyone who does not want to receive it. If you would prefer not to hear about new issues of The Way, or if you are receiving more than one copy of our message, please click here. Note that if you e-mail The Way again, you may need to unsubscribe again—our mailing list is maintained manually!
From THE WAY, a Journal of Christian Spirituality published by the British Jesuits
Campion Hall, Oxford, OX1 1QS 44/0 1865 286117 (phone) 286148 (fax)
Visit us at www.theway.org.uk the.way@campion.ox.ac.uk